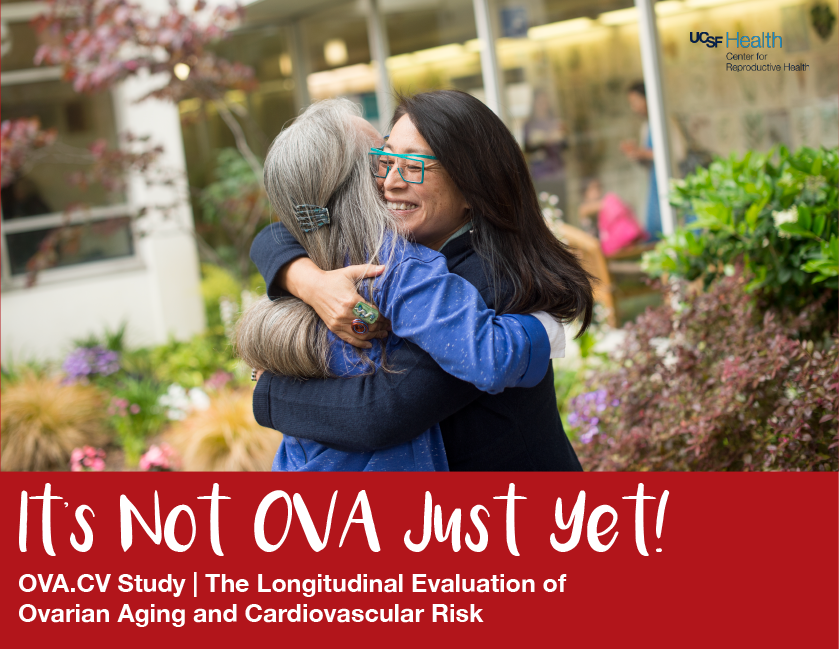 Welcome to the Ovarian Aging (OVA) Study at UCSF!
We are excited to invite you back for a follow-up study, beginning in 2018. Cardiovascular disease (CVD) continues to be one of the leading causes of death for women in the United States. Increased CVD risk has been associated with estrogen deficiency and early-onset menopause, along with other markers of cellular aging, such as mitochondrial dysfunction and telomere length.
In this study, we will be exploring the relationship between ovarian aging and cardiovascular disease, and potential interactions between social determinants of health (ex. race/ethnicity and socioeconomic status). We hypothesize that ovarian age and the rate of ovarian aging can be a window into a woman's systemic health. The markers that have been established to determine the ovarian reservoir [antral follicle count (AFC) and anti-Mullerian hormone (AMH)] from the original OVA study, along with cardiometabolic risk factors, may help us predict and, consequently, take steps to prevent cardiovascular disease in women.